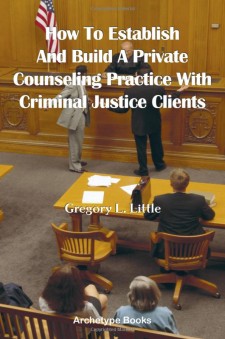 Most offender treatment goes on in the private sector—and more services are needed that target specific offender groups.
MEMPHIS, Tenn., April 25, 2018 (Newswire.com) - Few people are aware that America averages over 10 million arrests each year. The vast majority of arrests are for the offenses of driving without a license, shoplifting, and various other misdemeanors. Nearly all of these offenders are quickly processed and released and eventually assigned to a short probation term. Relatively few court jurisdictions have programs for such offenders, but most jurisdictions want specialized programs available for such offenders. Since the mid-1990s several large, private probation companies have aimed treatment programs at some specific offender groups, such as shoplifting offenders. However, their services are primarily offered in larger metropolitan areas leaving rural areas and towns without services that specifically treat specialized groups of low-level offenders. In recent years, private counselors and mental health providers have begun offering specialized counseling groups to offenders as part of an emerging trend that allows such services to be available even in small jurisdictions. It's a trend that needs to increase and is a needed service in local communities.
Dr. Greg Little, author of "How to Establish and Build a Private Counseling Practice With Criminal Justice Clients" (2016), wrote, "In essence, the governmental side of criminal justice is so swamped with offenders that it can't provide all that is needed. In brief, it became clear that the future of offender treatment was going to be specialized and something that could and would be done outside the governmental criminal justice system. Today, the majority of offender treatment probably goes on outside the criminal justice system. It is usually a contracted service and often court assigned. Most of these programs are funded by the offenders themselves. Nearly all of the 'private' providers offering such services use focused, cognitive behavioral workbooks designed for specific types of offenses. These programs are nearly always done in groups."
Little mentions shoplifting, underage drinking, driving without a license, and a host of other offense categories as being treatment areas that counselors and local mental health agencies should target. Services for Veterans are especially needed in rural areas. He adds, "By using evidence-based program materials, you can apply the very best treatment strategies to ensure that you are likely to reduce the chances that the offenders will re-offend. But it's essential to first gain the trust and confidence of the local jurisdiction. You need to use what works."
The first implementation of Little's shoplifting program was in Nashville, Tennessee nearly a decade ago. "It was a huge implementation and has since been replicated at many sites," Little stated. "It has been hugely successful. Counselors and local agencies should make efforts to serve the needs of their community by offering the key services that your local criminal justice simply can't provide." Such services should include programs for shoplifting offenders, those arrested for underage drinking, driving without a license, failure to provide child support, petty theft, anger management, trauma treatment, and services for Veterans.
Source: Advanced Training Associates, LLC
Share: