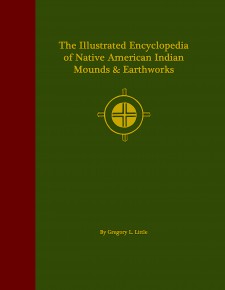 Memphis, TN, July 19, 2016 (Newswire.com) - ​Native American mound-building cultures began constructing mounds and earthworks some 6550 years ago, some 1700 years before Egypt's ancient pyramids were constructed. While the earliest known mound was made in what is today Baton Rouge, Louisiana, the largest mound complex in America is in Cahokia, Illinois, just a few miles east of St. Louis. Over 120 mounds were built at Cahokia with the largest pyramid-shaped mound at the site over 100 feet in height—equivalent in height to a 10-story building. Its base covers 14 acres, one acre larger than the Great Pyramid at Giza. In 1998 a large stone structure was discovered at the base of the massive mound, just one of the many still-unexplored mysteries from this enigmatic culture.
In the just-released 2nd edition of The Illustrated Encyclopedia of Native American Indian Mounds & Earthworks, it is asserted that when Columbus arrived in the Americas, there were an astonishing 57 million people inhabiting the Americas and about 1 million mounds were then in existence. Today, perhaps 100,000 mounds and earthworks remain. They are often cited as the most underappreciated archaeological treasures in the world.
The Native American mound-building cultures evolved through several phases. In the earliest phase, during the Archaic era, small conical mounds were made that were sometimes arranged around circular, elevated earthworks. The first mounds date to 4550 BCE and a culture named "Poverty Point" emerged a few thousand years later. Poverty Point, in Louisiana, was named for a plantation and is an expansive National Monument and park with a museum devoted to the site. The Poverty Point site is so large that a tram is used to take visitors through the extensive earthworks and mounds found there.
Gradually, a new culture, known to archaeologists as "Adena," began constructing gigantic conical mounds with stone chambers and burials often found at the mound's base. Circular moats and earthworks were often associated with these huge mounds along with lavish grave goods. There were a couple hundred Adena sites with some of them still unexcavated.
As Adena waned, around 3000 years ago, a new mound culture developed. Known as "Hopewell," these enigmatic people erected massive geometric earthworks with the largest some 56 miles in length. Their sites were often utilized for ceremonies and rituals. Some Hopewell sites are simply incredible formations that defy simple descriptions. For example, the circular and octagon-shaped earthworks at Newark, Ohio and Serpent Mound in southern Ohio are must-see archaeological sites. Many museums at important mound sites in Ohio are devoted to mounds and earthworks.
About 1000 years ago, a culture referred to as "Mississippian" replaced the Hopewell. The Mississippians typically constructed massive mound complexes surrounded by wooden palisade fortresses. Many of the pyramid mounds constructed inside the walls were utilized as bases for temples and houses for the elite rulers. Many states have large parks with museums devoted to the preservation of Mississippian Era sites. During these many mound-building eras, thousands of mounds formed into animal shapes were made, dozens of huge hilltop fortresses ringed with stonewalls and earthen embankments were constructed, and countless geometric earthworks in the shapes of circles, octagons, and long linear mounds were made.
While most mounds have been destroyed, many of America's ancient mound complexes still remain intact and are easily visited. Some, especially the larger and most unique sites, have been made into parks with museums and pathways that weave their way through the timeless mounds. They are unique sites that give a historical perspective absent from the typical American education.
The Illustrated Encyclopedia of Native American Indian Mounds & Earthworks is the most comprehensive guidebook to America's mounds in existence. Over 1100 site descriptions and locations are cited along with museums devoted to mound sites. The book contains nearly 900 photos, illustrations, and maps of sites along with over 80 site reconstructions. Many rare photos of stone chambers inside excavated mounds are included. The over sized hardcover book was issued in July 2016.
Source: Eagle Wing Books, Inc.
Share: